WHAT IS SHADOW CHROME?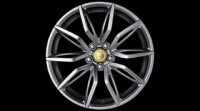 The Shadow Chrome alloy wheel colour was first developed in Europe, in 1998, by an Italian company. Shadow Chromemade its debut appearance in the high-end market of luxury motor vehicles. It has since quickly filtered throughout the automotive industry and is now seen as a standard OEM wheel throughout a multitude of manufacturers worldwide and is no longer exclusive to the luxury car market.
To the untrained eye, the difference between Shadow Chrome and the normal silver alloy wheel colours can be very hard to distinguish. In fact, 70% of the Shadow Chrome wheels we quote, the owner could not advise whether it was standard silver or shadow chrome finish.
Our wheel technicians are trained in the highly technical skill of repairing the various different shades of Shadow Chrome across different makes and models of car manufacturers. The process to achieve a Shadow Chrome finish requires a significantly longer repair time, at least three times the repair time to that of a standard silver or black alloy wheel repair. The Shadow Chrome affect is achieved by first laying a full black finish coat and once dry, followed by an application process of several thin layers of different coloured silvers.
Do not be worried about working out whether or not your wheel is shadow chrome or standard silver alloy, just send us a photo by our online enquiry form, email or SMS and we will help you all the way.